Sahy Uhns Live this Sunday at Downtown Independent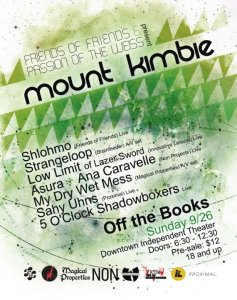 Hey y'all!
Proximal's own Sahy Uhns will be burning it up this Sunday at the Downtown Independent for "Off the Books" presented by Friends of Friends and Passion of the Weiss.
Along with Sahy Uhns the night will include performances from:
Mount Kimbie
Shlohmo
Low Limit
Strangeloop
My Dry Wet Mess
Asura + Ana Caravelle
5 O'Clock Shadowboxers
This is an event you won't wanna miss!
Presale tickets are available now on BrownPaperTickets for $12 – BUY NOW!
We hope to see you all there! Here's a little live Sahy Uhns to get you amped…